The International Forum designs customized experiences for individuals and organizations. These programs focus on helping organizations solve their own challenges by creating environments and situations where individuals can learn first-hand how others are dealing with similar issues and opportunities.
Customized Encounters are designed for one or two executives at a time and are created around a personal learning objective or development need. These experiences typically involve traveling to other parts of the world with professionals of The International Forum in order to learn how other businesses, organizations, cultures and individuals are addressing certain challenges and opportunities. These have included innovation and creativity, motivating cross cultural groups, the role different organizations play in society and the role of leader in different situations. The experiences are intensive and short and involve interviewing people, encountering new situations and a process for synthesizing learning and coaching.
Customized Forum Experiences are designed for groups or companies. These involve elements of programs such as Leadership Through Music and Sessions from Leadership Forums which can be designed around a specific objective or project that the individual or organization has chosen for themselves and must accomplish. While the experiences focus on learning from differences, it is also organized to achieving a tangible outcome for the company and individual.
March 6-7, 2003 in Stockholm, Sweden
LEADERSHIP THROUGH MUSIC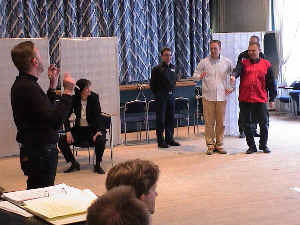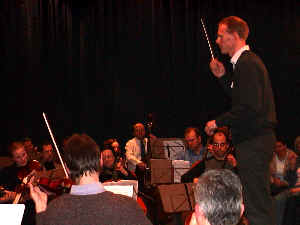 The International Forum customized the Leadership Through Music - Using Music as a Metaphor and Practical Tool for Leaders program for a group of senior managers at SEB in Stockholm, Sweden. 31 participants from the bank came from Sweden, Denmark, Norway, Latvia, Lithuania, Estonia, Poland and Germany to learn more about their own leadership style and potential. The two day program was part of the Wallenberg Institute, a program sponsored by Stockholm School of Economics.
See a Movie Clip of participant Jürgen Nedvidek conducting an orchestra for the first time in his life during the session "Conducting the Company" (This may take a few minutes to download if you have high speed internet access, otherwise it may take up to 25 minutes by regular phone line)
The Customized Encounters and Forum Experiences of The International Forum draw on its rich network of resources from around the world as well as the experience of its directors and faculty. Please contact us directly if there is a challenge or opportunity that you need help with at mailto:Mail@internationalforum.com