The small city of Yiwu, is the marketplace for those from developing and developed economies all over the world who have come to buy goods from China at its source. Manufacturers of low cost, small commodities including socks, handbags, Christmas decorations, hair pieces, silk flowers, small appliances, toys etc sell directly to traders and wholesalers from small shops and booths in either one of the three enormous enclosed markets or from the streets of the city itself. Last year it is estimated that its turnover was 20 billion RMB or $2.5B (US) with exports at about $1.5B.
In this city of trade, participants meet with leaders of private enterprises, which did not exist 20 years ago and which today are changing consumer markets around the world through their aggressive cost structures and choice of product.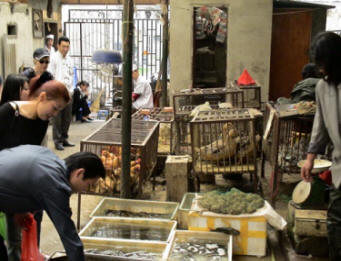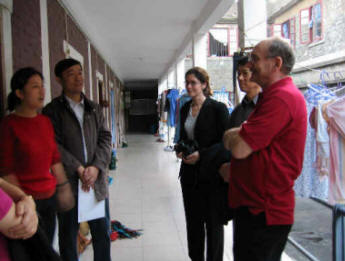 Photos: Exploring the markets of Wuhan; Dominique Trott, Tianxiang Zhan and Ken DeWoskin speak with students at Wuhan University
April 22: Wuhan
Considered to be at the center of China, where the Hanshui River meets the Yangtze River, it is the largest inland port in the middle section of the Yangtze and a major stop on the Beijing-Guangzhou railway. It is also part of China's "go west" initiative to bring economic development further into the interior. Surrounded on all sides by rich farmland, the city is slowly taking over rural areas as it expands and develops.
In Wuhan we meet with Chinese and foreign firms from textiles to technology. University students from all over China come to Wuhan to study at one of the 47 universities in this city and will speak frankly with us about their job prospects, their home towns and their views on China and its future.
Wuhan is home to many treasures in particular a collection of Bronze bells and musical instruments from the the Warring States period (482-221 BC). Viewed as part of the mandate of heaven, music played a key role in the moral development of the gentleman's character. The order established in music was presumed to be a model of Heaven's perfect harmony. The twelve note non-tempered scale that was created in China in 400BC is both a scientific and artistic wonder. Participants discover the secrets of this era not well known to many in the West.
The city is also a site for a discussion of the ancient thought leader, Confucius, and how what he wrote over 2,000 years ago still has relevance to understanding China and Chinese culture today.
The villages surrounding Wuhan provide insight into China's changing rural landscape and the social challenges brought about by China's economic reform. How displaced farmers are finding alternate sources of livelihood and what their hopes are for their children are shared in informal talks with them.
Participants will meet the owner and employees of a small machine and die shop in the center of Wuhan, which hires laborers from surrounding villages and produces plastic components for export.
These face-to-face encounters with people from all parts of China's society, economy and leadership are considered in an individual and group project for presentation and discussion on the final evening of the Forum.
"China is the most competitive place in the world.
If you can make it here, you will make it anywhere"
- Peter Harris
Javelin Investments