For 19 years The International Forum has challenged business leaders to learn more about the world in which they operate (the cultures, the people, the values, the history, the challenges and opportunities) at a much deeper level than their day to day responsibilities will permit, while also giving them a chance to learn more about themselves, their role as leader and as a human being.
Beginning in 2008 The International Forum will be undertaking a series of studies related to leadership and development around the world. For an update on this project please visit our blog, International Forum Insight, at: www.internationalforum.wordpress.com

Pictures from our recent International Forum in China...
RECENT INTERNATIONAL FORUM EXPERIENCES...
The International Forum in CHINA- November 2007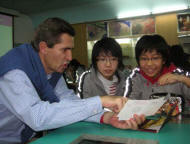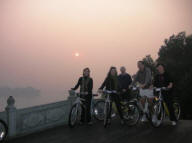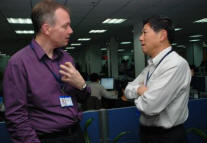 "It met and even exceeded my expectations as I learned a lot about China; not through powerpoint presentations and speeches, but by 'walking around' and interacting with people." -Philippe Wery, Director of Finance & IT, European & Latin-America Mill Products, Alcoa
"I knew from reviewing the pre-work information and learning about the event from prior participants, that it would be an excellent program; however my expectations were far exceeded. I expected to learn a great deal about China, but I did not expect to learn so much about myself and my role in China. The information and knowledge I left with is directly applicable in my current situation and will make me a substantially better employee and manager in China." -Jill Young, Manager, Global Asset Planning, Deere & Company
"A way to learn and know China by a perfect balance of personal experience and sharing experiences of other very knowledgeable actors or observers of China's complexity." -Jean-Noel Dargnies, VP Strategic Planning and Business Development, Alcan
More Coming Soon...
The International Forum in INDIA- March 2007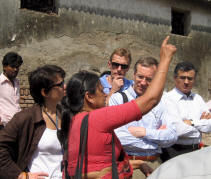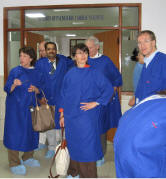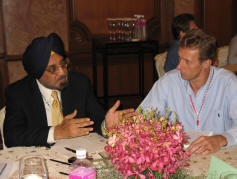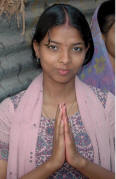 "An exceptional forum in which a participant can understand the country he/she visits by discussing with leaders of the country and with leaders from other countries who participate. As with all International Forums around the world, this one is such an exceptional forum in a sense that it provided sessions and site visits in which we could meet fantastic people." - Ken Ito, President and CEO, Fuji Xerox Information Systems
"A leadership development program beyond what you will get it the best business schools in the world." -Svein Richard Brandtzaeg, Executive Vice President, Norsk Hydro ASA
"I have been visiting India on a regular basis for the last ten years, but really learned so much more about India in this short one week. When you just stay within the circle of business people you deal with you never get to understand a country as well as we can do with the International Forum. And to be really successful in a country you need to have a good understanding of what drives the people." -Jacques Bertrand, President, Barco Asia Pacific
During the first week of March, members of the International Forum from all over the world traveled through India to le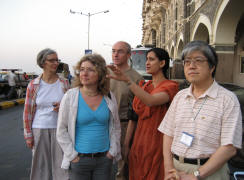 arn more deeply about what is happening there. Beginning in Mumbai, participants met with leaders of Indian companies such as Tata & Sons, Mahindra & Mahindra, Hindustan Lever, Biostadt, ICICI Bank and Deloitte among others. In discussions participants shared views and experiences on what is changing in India and what role businesses are playing in this transformation.
In addition to learning about the challenges facing India at a macro level, participants also learned about the opportunities for business, state of infrastructure and unique features of Indian societies. Participants were afforded an opportunity to learn first hand about some of the real issues facing Indian society and some of the unique and courageous solutions being implemented. During our first day in Mumbai, participants spent several hours in Dharavi (Asia's largest slum) with individuals who have been working to help solve some of India's most pressing problems as it urbanizes at such a rapid rate. Two organizations in particular shared with us what they have been doing during our two-day stay in Mumbai. These were the Society for the Promotion of Area Resource Centers (SPARC) at: www.sparcindia.org, led by Ms. Sheela Patel, and The Spastics Society of India and The National Resource Center for Inclusion at: www.nrcissi.org led by its founder, Dr. Mithu Alur.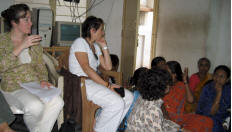 From Mumbai, the Forum traveled to Bangalore where participants met with a mix of leaders from business, healthcare, government, religious groups and society. A site visit to a village outside of Bangalore introduced some of the participants to leaders of the Village Panchayat (the system of local government in rural India). Discussions explored the challenges of education and healthcare in rural areas and villages and the impact that a growing city like Bangalore is having on the traditional agrarian way of life surrounding it. Participants also met with Dr. Devi Shetty, a cardiac surgeon and founder of Narayana Hrudalayala Institute of Cardiac Services (www.narayanahospitals.com), the largest pediatric cardiac hospital in the world. Dr. Shetty's mission is to provide affordable and available health services to India's poor. From meeting Devi Shetty, participants then traveled to Infosys to meet with its founders and leaders for discussions on the role of Infosys in India in the world today and the outlook for the future.
Bangalore provided members of the Forum with a chance to explore further the issues of India's cities and urbanization all over the world. Conversations with the Commissioner of Bangalore, Mr. K. Jairaj and Addl. Commissioner of Police, Mr. M.N. Reddi opened minds further to not only the challenges, but also the possible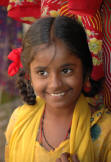 solutions to some of India's seemingly insurmountable urban issues. Underlying all the discussions throughout the week was the question of India's democracy and the question of whether it is a help or hindrance for India's sustainable development. Conversations with Ramesh and Swati Ramanathan, founders of Janaagraha (www.janaagraha.org) , a citizen's movement for participatory democracy, clarified for many not only the tenuousness but also the great potential of India's democracy. It reminded many members of the Forum of the fragility of the other democracies represented in the room and how important active participation (not just voting) is to the health and effectiveness of any democracy. The visit to Bangalore ended with a look at companies who are leading the way in research, development, collaborative design and manufacturing. Discussion with leaders from Texas Instruments (the first foreign company to locate in Bangalore) and others revealed Bangalore's potential in far more areas than outsourcing.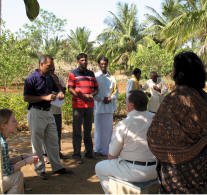 The Forum concluded with a brief visit to Delhi where participants met with leaders in some of India's most promising new strategic areas: healthcare, agribusiness, knowledge process outsourcing and next generation outsourcing and retail. Leaders from Bharti Teletech, Fortis Healthcare, Quatrro and Escorts Heart Institute contributed to this lively discussion.
The Forum closed with the input of a collection of people who were invited to join because of their varying perspectives on India. In closing one guest was asked to share what he was most concerned about in India and what he was most encouraged about. He remarked that corruption at all levels of society remained of grave concern. For it was not only the corruption among those who had little and wanted to protect it, but the corruption among those with wealth and privilege that disturbed him the most. He also expressed concern at the rising consumerism in India and the growing departure from Ghandi's wisdom and value system of consuming only what you need, not what you want. Ironically, many members of the Forum shared similar concerns about their own countries.
Of his optimism about India, he shared his hope that India would continue to see its civil society thrive, as by its existence and pressure on the government it would ensure that India's democracy evolved to be the true instrument of the people that it had the potential to be. He was also encouraged to see that despite economic growth, many of those who had benefited from it were still turning around to help others. The widespread concern for the enormous numbers of poor in India was still viewed as a problem to be solved not only by the government, but by the people themselves.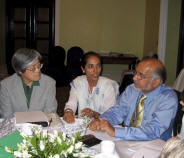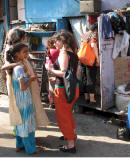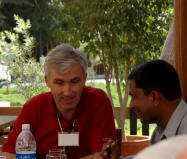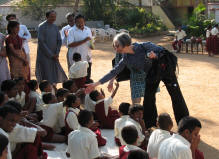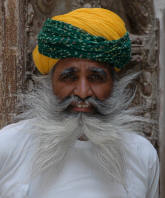 The Rajasthan Encounter took place directly after The International Forum in India, with 11 participants who were interested in seeing a different side of India than they had previously. Together, we traveled for a week through Jaipur, Udaipur, Ranakpur, Rohet, Manvar, and Jodphur. Rajasthan's rich history of princely states and maharajas make it a particularly colorful destination for foreigners and Indians. Tourism is one of its main industries today.
Influenced greatly by its unique history, Rajasthan is a reminder of the tremendous wealth and tradition of the Maharajas who developed the kingdoms and traditions of this state. An experience in Rajasthan reminds us at the same time of the many influences that came from outside India from the North and West, that were integrated over time to fashion was is Indian society today.
Rajasthan's history is a particularly bloody one. The Rajput warrior clans that emerged during the 6th and 7th centuries existed in a continuous state of aggression with each other and with outside invaders. From their hilltop strongholds they resisted man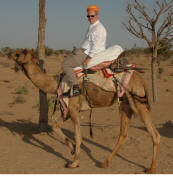 y incursions over the centuries. As such what emerged as Rajputana (present day Rajasthan) was a blend of Aryans, Afghans, Turks, Persians and others who settled there during five thousand years. Efforts to introduce Buddhism did not take hold. The Mughal Emperors subdued them, but only for a time. Rajputs were considered as Kshatriya (warrior class) whose lineage is traced to the sun, moon and fire. Today, that old warlike behavior of the Rajput kings is manifested in the bright colors, folklore, music and dance of the people of Rajasthan.
In Jaipur, the participants visited the Anokhi Museum of Handprinting and met with curator Emma Ronald. Anokhi is a clothing and textiles company t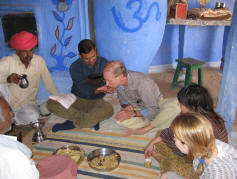 hat is working to revive the traditional craftsmanship of block printing in India while using traditional methods, safe dyes, and contemporary styles. In addition to being very popular with India's young fashion conscious consumers, Anokhi also exports to the international market with styles that are a mixture of Western and Indian influences. Their work over the years has helped to revive and sustain the craftsmanship and tradition of this important part of Rajasthan culture and provides an important source of employment and livelihood to many craftsmen in Rajasthan (www.anokhi.com).
In Udaipur participants engaged in the work of " Wells for India," a UK-based charity which focuses on the provision of sufficient clean water for drinking, cooking, washing, animals and crops in village communities in some of the poorest areas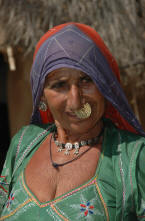 of the state . Priorities of projects in these communities are set by the villagers themselves with their active involvement and contribution so that they are responsible for the projects and are able to sustain them. We traveled with Wells for India to one of the villages that they are working with, and spent the day meeting the members of the community, discussing the issues they face, visiting their school, and spending time with the people (www.wellsforindia.org).
Rajasthan is home to many tribal groups. In Rohet, we visited with a Bishnoi family in their village. After traveling to the village by jeeps, we were warmly welcomed into the village to learn about the traditions and culture of the Bishnoi people. The Bishnois have been protectors of nature for five centuries and are arguably the world's first ecologists, responsible for the survival of such species as the black-buck antelope.
In Jodphur we met with Roberto and Cathy Nieddu, owners of VJ Home (www.vjhome.com), who are involved in design and manufacturing of home furnishing's ranging from wood furniture and decorative iron accessories to textiles and hardware. Their interest in Indian architecture and design has involved them in restoration and design projects. Spending time with Roberto and Cathy in their workshop and home also gave us an opportunity to learn from their own perspective about living as a foreigner in India.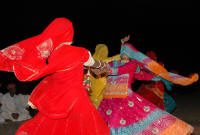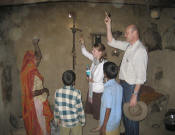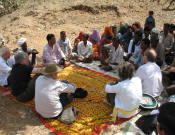 Social Entrepreneurs provide examples of Leadership and Vision for tomorrow's corporations:
Great leadership is not limited to business nor are great leadership skills only learned at business school. When was the last time you learned from a leader outside of the business world?
Meet some of the people and their organizations who have been involved with The International Forum recently:
Mithu Alur - The Spastics Society of India/ National Resource Centre for Inclusion, India
Sheela Patel - The Society for Promotion of Area Resource Centers, India
Ramesh and Swati Ramanathan - Janaagraha Centre for Citizenship and Democracy, India
Devi Shetty - Narayana Hrudayalaya, India
Om Prakash Sharma - Wells for India, India
_______________________________________________________________________________________________________________________
How do you treat Jet Lag?

Read the advice from Joshua Feinbloom on how to use Yoga. An excerpt from The International Forum in San Francisco

Learn about how the International Forum uses Music as a Metaphor to better understand your leadership style and potential. Contact us to learn how you can introduce Leadership Through Music to a group of executives in your company, organization or association.